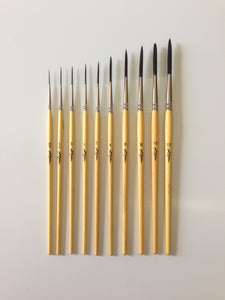 Script/Liner
Regular price $16.79 Sale
In order to help pinstripers achieve results similar to his own, pinstriping legend Steve Kafka has added a third line to the brushes that bear his name — Kafka Design Script/Liner Brushes.

Steve Kafka has been regarded for many years as being on the cutting edge of modern design for his elaborately beautiful and original pinstriping techniques. He is respected as well for his graphic design and custom painting.

Beginning and pro pinstripers alike will get great results with Kafka Design Script/Liner detail / utility brushes. From design work and small script lettering to signatures and artwork, the Script/Liner will give the artist maximum control in all situations. Not to be confused with the SignWriter lettering brushes.

These brushes are made by master brush makers to perform beautifully and last for years. They're constructed of a combination of synthetic and natural fibers for durability, with seamless ferrules fitted onto natural wood handles. As with all Kafka brushes, they can be used with oil-based enamels as well as urethane striping paint.